Thursday January 27, 2022
Finances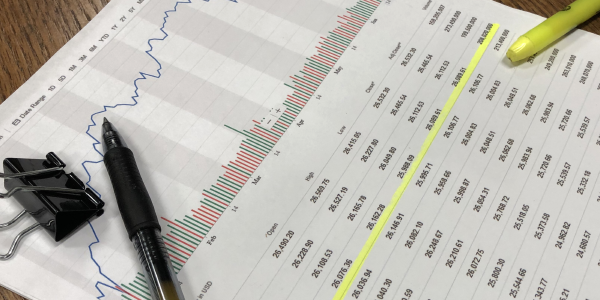 Chico's Reports Strong Earnings
Chico's FAS, Inc. (CHS) released its quarterly earnings report on Tuesday, June 8. The fashion company, which houses the Chico's, White House Black Market and Soma brands, beat analysts' earnings and revenue estimates.

The company posted net sales of $387.96 million for the quarter. This is up from $280.26 million in the same quarter last year and was 18% higher than analysts predicted.

"Our first quarter results underscore the tremendous progress we are making in our turnaround strategy and the power of our three unique brands and being a digital-first, customer-led company," said Chico's CEO and President Molly Langenstein. "The strong first quarter performance across all three brands was fueled by our significant improvements in product and marketing, which drove full price selling. Our momentum started in the fourth quarter of fiscal 2019, stalled by the pandemic, is now back on track to deliver meaningful growth in the years to come."

The company reported a net loss of $8.93 million, which is better than the $178.29 million loss reported at this time last year. On an adjusted earnings per share basis, the company posted an earnings loss of $0.08 per share, an improvement over the $1.55 loss reported at this time last year.

Chico's released a statement containing planning expectations for fiscal 2021. The company expects net sales to improve between 28% and 34%. Chico's reported the average age of customers is dropping and the company is focusing its marketing efforts on digital storytelling and social influencers. Chico's and White House Black Market are developing fabrics and technology to improve comfort as the company continues to embrace the "comfort culture."

Chico's FAS, Inc. (CHS) shares closed at $5.75, up 4.9% for the week.


Dave and Buster's Reports Earnings

Dave and Buster's Entertainment, Inc. (PLAY) announced quarterly earnings on Thursday, June 10. The Dallas-based dining and entertainment chain reported recovery in revenue and earnings after many stores were closed or subject to limited capacity or hours during the pandemic.

Revenue reached $265.3 million for the quarter. This was a 66% increase from revenue of $159.8 million reported in the same quarter last year.

"The strength and resilience of the Dave & Buster's brand has never been more evident," said Dave and Buster's CEO Brian Jenkins. "We saw a significant improvement in demand across our store base in the first quarter, including at our recently re-opened New York and California stores. We generated $265 million in total sales, surpassing the top end of our expected range for the quarter, and established a new high-water mark in our post-Covid sales recovery. This strong sales rebound, coupled with our lean operating model, drove outstanding profit flow-through during the quarter, and generated $72 million in EBITDA, only 19% below the first quarter of 2019."

Dave and Buster's reported quarterly net earnings of $19.6 million or $0.40 per share. Last year at this time, the company reported a net loss of $43.5 million or $1.37 per share.

Dave and Buster's began the first quarter with 107 open stores, 76% of its total store count. As of May 2, that number reached 138 open stores. The company added one new store during the quarter for a total store count of 141. The company's two remaining closed stores are located in Canada.

Dave and Buster's Entertainment, Inc. (PLAY) shares closed at $42.87, up 3.0% for the week.


Chewy Announces Earnings

Chewy, Inc. (CHWY) released its latest earnings report on Thursday, June 10. The online pet food and products company reported increased profits and revenue.

Revenue came in at $2.14 billion for the quarter. This was up from $1.62 billion in revenue during the same quarter last year.

"2021 is already turning out to be an exciting and busy year for Chewy," said Chewy CEO Sumit Singh. "We continue to execute against our growth roadmap, expand our customer base, increase share of wallet, and grow our addressable market-expanding verticals. I am incredibly proud of the determination and focus of our teams and their ability to accelerate our pace of innovation on behalf of our customers, while consistently delivering strong top-line and bottom-line results for our shareholders."

The company reported profits of $38.7 million for the quarter. This was up from a $47.9 million net loss last year at this time.

In a letter to its shareholders, Chewy reported active customers increased by 4.7 million, a 31.6% year-over-year growth. Active customers now total 19.8 million. Chewy's customer base has increased by 8.4 million over the past two years. Historically, the company's customers spend over $400 in the second year, $700 in the fifth year and close to $900 in the third year. The company reported the steady increase in new customers would likely lead to higher sales over the coming years.

Chewy, Inc. (CHWY) shares ended the week at $74.74, down 1.2% for the week.

The Dow started the week at 34,766 and closed at 34,480 on 6/11. The S&P 500 started the week at 4,229 and closed at 4,247. The NASDAQ started the week at 13,803 and closed at 14,069.
Treasury Yields Remain Low
Yields on U.S. Treasurys held steady near recent lows as investors seem to view the recent rise in inflation as temporary. Meanwhile, jobless claims continue to fall and have reached their lowest levels since the beginning of the pandemic.

On Thursday, the Labor Department reported the fastest acceleration of consumer prices in almost 13 years. The consumer price index rose 5% in the month of May, higher than the 4.7% predicted by analysts. However, the central bank has previously indicated inflation at this time of economic recovery is likely transitory, leading many to anticipate no change in Fed policy at the upcoming Federal Open Market Committee meeting on June 15 and 16.

"The intensity of the current inflation and the current bottlenecks in supply chains and labor markets is greater than I had anticipated," said former Fed Vice Chairman Donald Kohn, who added that he does believe the rise is temporary. "But it also could be that the underlying demand-supply balance will not correct as readily or as comfortably as the Fed and I had expected earlier. It's got my inflation antenna quivering."

The 10-year Treasury note opened the week at 1.554% and hit a low of 1.440% on Thursday. The 30-year Treasury bond opened the week at 2.230% and reached a low of 2.128% on Thursday.

Jobless claims fell to 376,000 for the week ended June 5, down from 385,000 reported by the Labor Department the week before. Comparatively, initial jobless claims on March 14, 2020 were at 256,000. Continuing claims for unemployment benefits for the week ending May 22 were at 15.35 million, down from 15.44 million the week before.

"As life normalizes and the service sector continues to gain momentum, we expect initial jobless claims to continue to trend lower," said Joshua Shapiro, chief U.S. economist at the economic and financial consulting firm Maria Fiorini Ramirez, Inc.

The 10-year Treasury note yield closed at 1.453% on 6/11, while the 30-year Treasury bond yield was 2.141%.
Mortgage Rates Decline

Freddie Mac released its latest Primary Mortgage Market Survey on Thursday, June 10. The report showed a slight decrease in rates since last week.

The 30-year fixed rate mortgage averaged 2.96%, down from 2.99% last week. At this time last year, the 30-year fixed rate mortgage averaged 3.21%.

This week, the 15-year fixed rate mortgage averaged 2.23%, down from 2.27% last week. Last year at this time, the 15-year fixed rate mortgage averaged 2.62%.

"The economy is recovering remarkably fast and as pandemic restrictions continue to lift, economic growth will remain strong over the coming months," said Freddie Mac's Chief Economist Sam Khater. "Despite the stronger economy, the housing market is experiencing a slowdown in purchase application activity due to modestly higher mortgage rates. However, it has yet to translate into a weaker home price trajectory because the shortage of inventory continues to cause pricing to remain elevated."

Based on published national averages, the national average savings rate was 0.06% as of 5/17. The one-year CD averaged 0.14%.
Published June 11, 2021
Previous Articles
Fossil Watches Reports Earnings